Power Lines en route to Pierre.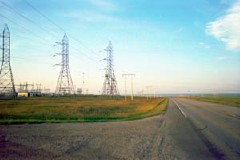 06/25/2001: Pierre, SD
Lat: 44°22.579'N
Long: 100°20.874'W
Elev: 1610.9ft
65.31 mi. 11.4 mph 5.42.59 hr.
The Provinces
Blistering day out there, replete with another bicycle portage -- this time, instead of following a detour on a gravel road ten miles out of our way, we set out through a road construction zone. Ended up having to walk our bikes along the edges of the torn-out road bed and the neighboring farmer's fields.
In spite of the lack of services along the way and a stiff headwind, we made good time into pierre.
This is, it seems, a town that always plays to sodak's stereotypes: it's only accessible from shoddy, two-lane roads, and its sparse population sprawls across the hilly river bottomland.
Economically, you can see the town in decline and how closely aligned with ag-business waning fortunes it really is.
Compared to other state capitols in the west, pierre is the veritable provinces.
In fact, s. Dakota itself is the veritable provinces...
Which is probably why I scurried away from here so quickly when I could.