Not exactly 47mph territory here.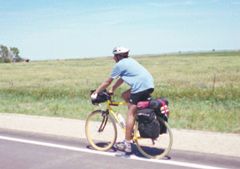 06/24/2001: Ft. Thompson, SD
Lat: 44°4.258'N
Long: 99°26.109'W
Elev: 1437.0ft
23.67 mi. 12.3 mph 1.45.56 hr.
Short Day
...Heat and a lack of services driving us indoors after the ride to ft. Thompson -- the only major stop between here and pierre...
Hilly riverbottom country with the wind at our backs -- managed to ratchet the bikes up to 47mph on a particularly sharp grade w/good road surface and little distracting traffic.
On our way out of chamberlain this afternoon, we stopped at the museum on the grounds of the st. Joseph indian school. It was, we both assumed, largely a place to kill some time (and maybe find some postcards) before heading into the heat and hills. In actuality, it was a pretty good display of sioux-american relations over time, well curated, solidly written, and organized in a wonderfully circular design.
Since we entered the state, vermillion and yankton have been the only towns that we've passed through with populations larger than five thousand... Chamberlain seemed a metropolis when compared to the rest with its twenty three hundred people.
And for all the years that he's lived in montana, somehow the smallness and remoteness of these places surprises barrett.
To me, though, it is simply the demographics of the state -- little has really changed on that front in the time that I have been away.