Rockface worn smooth by erosion and water along the trail.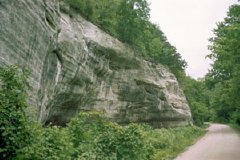 06/11/2001: Lexington, MO
Lat: 39°9.724'N
Long: 93°52.879'W
Elev: 797.2ft
61.93 mi. 10.9 mph 5.39.28 hr.
Damn These Shoulders!
And while that last bit may have been a bit heavy and down, the day hasn't been without value.
Which is something that I wouldn't have expected considering I began today's voyaging with a flat tire and then suffered another one ten miles from our late luncheon stop...
A cheap hotel here in a town that appears to have been hoping for, but has never really seen, better days and the discovery that not only is whiskey inexpensive, but it's decent rye to boot.
Tomorrow we do our best to make our way to leavenworth, hopefully circumnavigating kansas city's sprawl and the day's heat simultaneously...