Cover Art from out of print edition of the Bakeless Journals.
Note the Captains' resemblence to the Daniel Boone of film & tv.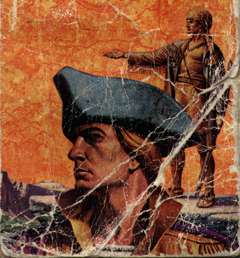 06/05/2001: Marthaville, MO
Lat: 38°37.529'N
Long: 91°3.696'W
Elev: 498.7ft
47.53 mi. 11.4 mph 4.10.26 hr.
Historic/Mythic Figures
Sitting here at some sort of community sports complex...
Hot and mugging, still -- rained lightly and infrequently today; several counties bordering us are in the throes of flash flood watches.
Not much to add, besides the observation that I need at least a liter of water for every ten miles of biking. And certainly much more by way of calories.
Strange to think that I'm terribly nonplussed by the presence nearby of the resting place of one of my boyhood heroes, daniel boone...