A flat tire to send us on our way.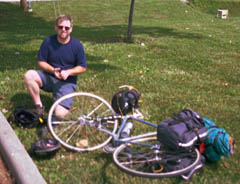 06/04/2001: St. Charles, MO
Lat: 38°46.239'N
Long: 90°29.781'W
Elev: 413.4ft
00 mi. 00 mph 00 hr.
We've Arrived
...I'm forgoing internet access in lieu of doing our laundry and knocking back a requisite amount of whiskey... It's been a furious race across the plains, covering fifteen hundred miles in just over two days. We've crossed the Missouri River at least four times now,and tomorrow morning we begin to follow it westward -- not so much as recreating L-C's journey but taking another long trek in the wild (or, in this case, the not-so-wild...).
It is, I guess as I've written before, golding & verbanac's contemporary ethnographic discoveries amongst the missouri river basin dwellers of the new west.
Back to the appropriate number of gills of whiskey then... And so it begins.
BG today | next