A view across the water on Lake Oahe.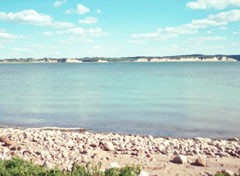 06/21/2001: Gavin's Point Damn, SD
Lat: 42°51.517'N
Long: 97°32.554'W
Elev: 1227.0ft
46.74 mi. 9.8 mph 4.45.18 hr.
Diversity
Stiff headwinds today, all the way out of vermillion. More cycles and not very much forward motion. A detour to look at the damn turned into a destination for camp when we rode through the lewis & clark recreation area via its bike trails...
Was thinking earlier as I was pedalling that it was interesting to see how much people tend to view the corps of discovery's ethnic and cultural diversity as a wondrous example of how this could (and perhaps should) function today.
True enough, the corps was comprised of a wide variety of individuals: a black slave, a young native woman w/child, several french-indians, and service men of varying european ancestry (irish, german, english, dutch).
But little is made of the fact that they served together in extreme adversity and that we really have no evidence suggesting that things were all that harmonious amongst the corps' members.
Then again, there is no evidence to the contrary either...
Still, it seems a very typical thing to do: investing the past with traits and qualities we can only hope to ascribe to today.