«Missouri River • Great Plains • Rocky Mountains» | «Radio • Writs • Ride • Resources»
Lost Edens
James Denny interview
One June 2001 afternoon we walked and talked through the first annual Rocheport Rendezvous with Jim Denny, the mayor of Lupis, Missouri, a historian for the Missouri Department of Natural Resources, and a local lorist.
Tell me who you are, and what you do.
Well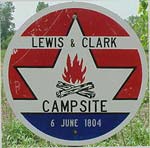 , my name is Jim Denny. I live along the Missouri River in a little town about ten miles south of here on the west side called Lupis, Missouri. I'm also a historian. I work with the Missouri State Park system and the Missouri Department of Natural Resources. I've been involved with those folks for twenty five years now and I've spent almost all of that time studying this region and the history of the Missouri River. It's kind of a ruling passion of my life. And we're right here in Rocheport, Missouri, which is one of the most beautiful historic towns along the Missouri River. It goes all the way back to the 1820's.
What's going on here in Rocheport?
Well, this is the first of what, hopefully, will be an annual June festival in the town of Roachport here that'll been centered around roughly the same period when Lewis and Clark passed through here on their journey. They came through, I think, on June the seventh, 1804. They'll probably have this every year at a, roughly, the nearest weekend date to this time.
So, where are we going right now?
We're heading towards the Katy trail which was, it's called the Katy trail after the Missouri, Kansas and Texas railroad. Around 1900 they laid out and built a river route that started at Boonville, and followed the north side of the Missouri River flood plain, all the way to pass St. Charles, so they could get a direct St. Louis connection easier. Back in 1986 the Katy railroad filed to abandon their line, and under the National Trail System Act we acquired the right-of-way and created the Katy Trail, which is, as it turns out, the longest non motorized segment of the Lewis & Clark National Historic Trail. For 165 miles it parallels the Lewis & Clark Trail along the Missouri.
And then, where are we headed now?
We're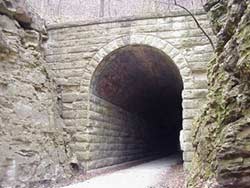 heading west towards Katy Railroad Tunnel. That's the only tunnel actually blasted along the Katy railroad route. It's probably one of our most scenic attractions on the Katy trail. For a Lewis and Clark buff it's slightly unfortunate, in the sense that they probably blasted away the portions of the bluff containing the pictographs that Lewis and Clark saw when they stopped at this place on June 7, 1804. Photographs of the construction of the Katy Railroad tunnel show that they probably destroyed a full two-thirds of the bluff that was once there.
This whole are is called the Boone?
The Boonslick country is what it's called. The Boonslick itself is a salt spring that exists in Howard County and back in 1805 Nathan Boone and Daniel Morgan Boone, the two son's of Daniel came there and opened a salt works.

They brought their big cast iron pans with them and started boiling salt down and they did that for a few years and that name just sort of became the name for this region and it's kind of a magical name for two reasons. One, of course, is the association with the famous Boone family, the most famous western family probably in our history and the second reason is that this the most fertile country, the country that most closely resembled what an upland southerner's notion of heaven would be, rich limestone soils, just like they remember back in the blue grass country of Kentucky. In fact they leap-frogged over areas between St. Charles and here, came straight here, and then settled their way back. So this is the most famous early southern settlement region of mid-Missouri, and the fact that it had a name you could hang your hat to, the Boonslick, gave it a special luster and everybody was heading to the Boonslick country.
And Manitou, what does that mean?
Well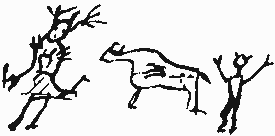 , Manitou is the Algonquin word, I guess, for the great-spirit. Evidently, early native Americans saw great significance in certain kinds of natural formations and sometimes they would leave paintings up, particularly spectacular formations they considered sacred for some reason or another. And they did quite a bit of pictographic art along the river bluffs around this area including where we're standing on the bluff where the Katy tunnel is bored through right now. At that bluff they saw these Manitou images painted on the bluffs and they consist of these sort of figures with sort of antlers projecting from their heads. They called those Manitous. And that name sort of stuck to this whole region. Every early traveler that came up the river talked about the big Manitou bluffs. This rock we're looking at now is called the Big Manitou Rock. It was just a very famous landmark and, of course, when Lewis and Clark tried to investigate the pictographs here, they were driven away by what they described as very, V-E-R-R-Y, large rattlesnakes. But they none the less, were actually right here , right at this spot back in 1804 on June the seventh.
What makes you interested in this whole thing?
It just may be some kind of a weird abnormality or obsession on my part, I have just always been fascinated by history. I was meant by family tradition to become a lawyer but something just didn't let me do that instead I took a vow of poverty and became a historian for the state instead.
So are you one of these guys that has kind of a nostalgia for the old times?
I

don't know that I have a nostalgia, I guess I would. I have a nostalgia, I think, to an extent that almost anyone would in a sense that what you wouldn't give to just see it the way it was before all the changes took place. I do have a nostalgia and a desire, if I could, go back and just see this place when there was still mountain lions and black bears and wild Indians roaming these woods and back when the river was this tremendous body of water that snaked all over the place with thousands of islands and unbelievable wildlife and wildlife we wouldn't see today probably like Sand-hill cranes. Who wouldn't want to go back and experience that? I think every member of civilization has a certain feeling that, especially in our culture, you know, that we've done great things, you know, we've become a great nation and a great power, but we destroyed a lot of Edens to do that. The are a lot of that would like to see those lost Edens that were once here.
"A short distance above the mouth of this Creek, is Several Courious Paintings and Carveing in the projecting rock of limestone inlade with white red and blue flint, of a verry good quality, the indians have taken of this flint great quantities. We landed and found it a Den of rattle Snakes, we had not landed 3 minutes before three verry large Snakes weer observed on the Cirvices of the rocks and Killed." –Captain Clark, June 7 1804
By Jim Denny


Article- "The Manitou Bluffs on the Missouri River"


Book- Lewis and Clark in the Boonslick
---