History of
Lafeyette Square

Across Pennsylvania Avenue from the White House sits Lafayette Sqaure, also called President's Park, Peace Park, and 1601 Pennsylvania Ave.. The Square is named after the French native, Marquis de Lafayette, who served as General under George Washington during the Revolutionary War.
1791 Pierre L'Enfant designates a large rectangular space in Washington DC as President's Square.
1792 Andrew Ellicott decreases the space by creating city squares in it's Northwest corners to be sold for private development. The land that will be Lafayette Park is occupied by a small graveyard and an orchard.
1814 British invade Washington. American troops gather in the unimproved space to defend the city, but the president's house and other federal buildings are burned.
1815 St. John's Church erected on H Street. Designed by Benjamin Latrobe, it will become "The church of the President" attended by every chief executive from Monroe to Lincoln.
1818 Latrobe designs house for Naval hero Stephen Decatur east of the Park.
1820 15-1/2 and 16-1/2 Streets (later named Madison and Jackson Places) created. Pennsylvania Avenue extensions separate the Park from the President's grounds.
1824 Parade honoring General Lafayette ends in the Park landscaped especially for the occasion. Washingtonians begin referring to space as Lafayette Park.
1828 Benjamin Ogle Tayloe erects his home on the east side of the Park.
1835 Dolley Madison moves into the Cutts House on the Northeast corner.
1845 Daniel Webster, occupying a house on H Street, negotiates with neighbor, British Minister Lord Ashburton, to define U.S./Canadian border.
1849 William Corcoran purchases Webster's home and commissions James Renwick to make extensive renovations.
1851 At Corcoran's request, President Millard Fillmore asks Andrew Jackson Downing to develop landscape plans for the city's Parks.
1853 15,000 people gather in Park for unveiling of Andrew Jackson statue.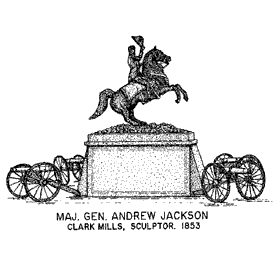 1859 Francis Scott Key's son, Philip Barton Key, has an affair with Congressman Daniel Sickle's wife, living on Jackson Place. Interceding a rendezvous, Sickle's murders Key in the Park.

"Key, you scoundrel. You have dishonored my home. You must die."
--Rep. Daniel E. Sickles
1861 Civil war begins. Union troops camp in the Park and occupy several of the surrounding residences.
1865 As part of Lincoln's assassination plot, William Seward is attacked in his home on Madison Place, but he survives.
At about 10 p. m. on April 14, 1865, at almost the same time that Booth assassinated President Lincoln, Lewis Paine entered the residence of Secretary of State William H. Seward, Madison Place, Lafayette Square, on the pretext of delivering medicine to Seward, who had been injured in a carriage accident. Paine fractured the skull of Frederick Seward, a son of the Secretary, with his revolver, slashed a male nurse, and stabbed Seward twice in the face. Only the fact that he was wearing a steel brace around his neck and broken jaw saved Seward's life.
--National Park Service
1867 Jurisdiction of City Parks transferred to the U.S. Army Corps of Engineers, Office of Public Buildings and Grounds.
1872 Lafayette Park landscaped according to Downing's designs.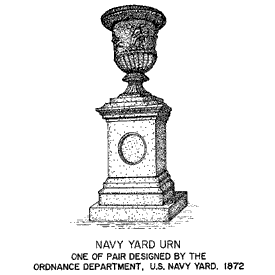 1876 Prairie dogs and deer, presented to President Ulysses S. Grant, displayed in enclosures in the Park.
1884 Statesman John Hay and writer Henry Adams commission Henry Hobson Richardson to design attached homes on H Street that will become the center of Washington intellectual life.
1887 Gas lamps in Park replaced with electric to curb criminal and "immoral" acts after dark. Cosmos Club purchases Cutts House on Madison Place for headquarters.
1889 Tall iron fence around Park removed during movement to "democratize" city Parks.
1891 Statue honoring General Lafayette erected in Southeast corner. "Leslie's Popular Monthly" magazine features diagram of the square with a list of it's prominent residents that includes Ambassadors, Cabinet Members, Congressmen, businessmen, and military officers.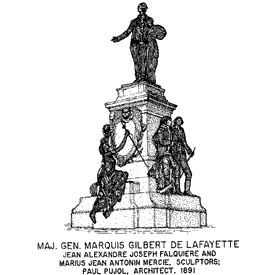 1894 Rodgers House on Madison place demolished for Lafayette Square Opera House where Sarah Bernhardt, Al Jolsen and Will Rogers will perform, and 5-year old Washingtonian, Helen Hayes will "be discovered".
1902 McMillan Senate Park Commission report proposes replacement of all buildings facing the Park with Beaux Arts-style federal offices. Statue honoring Revolutionary War hero Major General Comte Jean de Rochambeau erected in the Southwest corner of Park.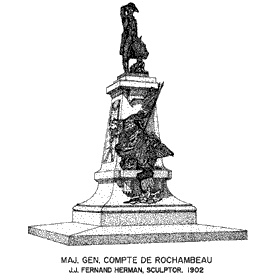 1904 Cosmos Club expands to occupy two adjacent buildings on Madison Place.
1909 Cosmos Club demolishes adjacent buildings on H Street to erect five-story addition.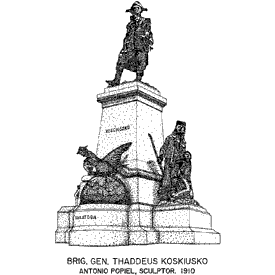 1910 Statues honoring Revolutionary War hero Maj. General Fredrich Wilhelm Von Steuben and Brig. General Thaddeus Koskiusko erected in North corners of Park.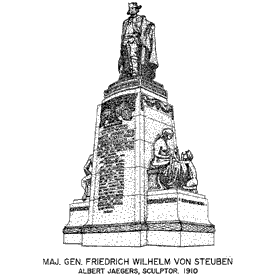 1914 Classically proportioned lodge replaces Victorian Watchman's Shelter in Park.
1917 In accordance with the McMillan scheme, architect Cass Gilbert designs neoclassical Treasury Annex at south end of Madison Place. It is planned that the building will be extended to the full length of the street.
1918 World War I prompts erection of War Risk Insurance Building on H Street. Built hastily, the 139'-tall structure does not conform to McMillan plan standards.
1922 Corcoran's house on H Street and its neighbor's demolished for Cass Gilbert's neoclassical Chamber of Commerce, which does conform to McMillan's standards (O).
1927 Houses of Hay and Adams on H Street demolished for elegant Hay-Adams Hotel (P).
1931 Sickle's house on Jackson Place razed for eight-story headquarters of the Brookings Institute.
1933 Jurisdiction of Washington's Parks transferred from the U.S. Army Corps of Engineers to the National Park Service.
1936 Works Progress Administration laborers refurbish Park and redesign pathways along more classical lines.

1937 After the financial failure of the Lafayette Square Opera House. The Balasco Theater opens in the same building (J).
1940 Federal Government purchases all buildings on Madison Place and plans to replace them according to the McMillan scheme.
1942 National Park Service undertakes tree survey in Park and publishes a pamphlet describing it's more than 29 types of trees. Pamphlet is distributed and displayed for the enjoyment of increasing numbers of office workers who gather in the Park at lunchtime. Belasco Theater reopens as the Stage Door Canteen to entertain U.S. servicemen during World War II on Madison Place.
1947 AFL-CIO purchases Ashburton House on H Street.
1950 Congress authorizes acquisition and clearing of any property on the square deemed necessary for federal office space.
1954 AFL-CIO sells Ashburton House to St. John's Church (H Street) to be used as it's rectory. AFL-CIO then constructs towering structure in the lot north of the church.
1956 Death of the last resident on the square, Marie Beale, marks the complete shift from residential to office occupancy. In an effort to protect her home from demolition, Beale bequeaths Decatur House (Jackson Place) to the National Trust for Historic Preservation.
"Here was the common meeting ground of so many historical personages that it could be called, perhaps, the center of the political history of the nation. More than any single spot in America, this little plot of ground was still animate with the past, still quietly redolent of bygone days, still preserving the faint echo of the footsteps of those that led the country to greatness."
--Marie Beale, 1954
1957 General Service Administration begins planning new federal office building on Jackson Place. Flurry of newspaper and magazine articles lamenting impending demolitions generate public outcry. Legislation proposed to designate several properties on the Square as historical landmarks.
1961 Commission of Fine Arts begins reviewing plans for new federal offices to be erected on Madison and Jackson Places.
1962 First lady Jacqueline Kennedy intervenes and asks that the new plan retain the histories buildings and the residential quality of the neighborhood. John Carl Warnecke devises plan that sets the large federal offices behind the historic row-houses.
"I believe that the importance of Lafayette Square lies in the fact that we were not willing to destroy our cultural and historical heritage, but that we were willing to find a means of preserving it while still meeting the requirements of growth in government. I hope the same can be done in other parts of the country."
--President John F Kennedy, 1962
1964 Construction begins on the Court of Claims building on Madison Place and the new Executive Office building on Jackson Place. Several modern buildings, including the Brookings Institute and the Grange are demolished. Despite protests, the Belasco Theater is also razed.
1968 Paul Mellon's Old Dominion Foundation contributes funds to redevelop the Park as part of Ladybird Johnson's city beautification program. Park is enclosed with plywood fencing decorated by local students and artists with scenes from Lafayette Square history. Seven month later, it reopens with new brick walks, elliptical pools with fountains and Checkers tables.
1970 Warnecke Project nears completion. Jackson Place presents continuous faŤade of Federal and Victorian style structures. The Brookings Institute and Grange have been replace with historic-looking buildings.
1976 A veteran protesting his treatment by the Veteran's Administration (H Street) stages an around-the-clock vigil in Lafayette Park and is arrested for sleeping in public. The U.S. Court of appeals overturns his conviction, declaring that sleeping in the Park is a First Amendment right.
1982 "Tent City" erected in Lafayette Park to publicize the plight of the homeless.
1983 Citizens protesting nuclear war with semi-permanent signs and displays are banned from blocking the sidewalk in front of the White House for security reasons. They relocate across the street in Lafayette Park.
1984 Amid publicized controversy over First Amendment rights, the U.S. Supreme Court rules the government may bar homeless people from staging overnight "sleep-ins" in federal parks.
1986 After hearing complaints that protesters signs block views and create "landfill-like" appearance in the Park. National Park Service officials establish limits on protest signs and begin removing signs in violation.

1989 During his war on drugs campaign, President George Bush displays crack cocaine purchased by an undercover agent in Lafayette Park. In the subsequent trial to convict the dealer, the jury declares a mistrial on the grounds that he was lured to the Park as part of a publicity stunt.
1991 U.S. bombs Iraqi troops in Kuwait. Peace protesters maintain vigil in Park throughout short-lived Gulf war. The D.C. City Council officially recognizes and honors the tenth anniversary of the "Peace Vigil" in Lafayette Park.
1995 After the bombing of the Alfred P. Murrah Federal Office Building in Oklahoma City, President Clinton closes Pennsylvania Avenue to traffic in front of the White House. After years of debate about the future of this portion of Pennsylvania Avenue, the Federal Highway Administration is administering contracts for its reconstruction.

Text and sketches: Historical American Building Survey, National Park Service, U.S. Department of the Interior. Drawings by Robert Arzola, 1993. Additional info & photos: the NPS history of Ford's Theatre history and Proposition One's Peace Park History.