Let's Eat
A (((HearingVoices))) Radio Special
A Thanksgiving audio feast thrown by
Independent public radio producers
Hosted by Larry Massett (= 28K)
• Joe Frank's tour of a typically twisted Thanksgiving dinner.
• Scott Carrier's tour of a turkey farm.
• Dean Olscher's trip through the Twin Cities with Chowhound Jim Leff.
• Susan Stone's cut-up of a classic cookbook.
• Todd Colby's desire for your cakes.
• Annie Cheney's touching documents of her eating disorder.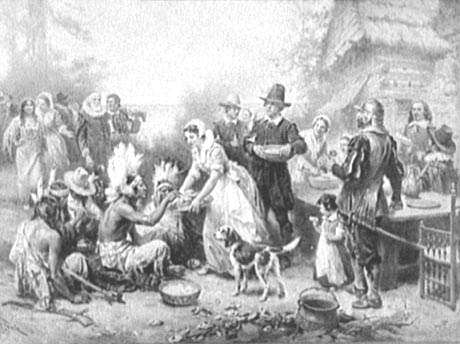 detail of painting "First Thanksgiving" by Jean Louis Gerome Ferris (1863-1930)
courtesy Library of Congress, Prints and Photographs Division, Detroit Publishing Company Collection

BINGE (Part 1)(32:00)
LET'S EAT is a public radio special, with Guest Host: Larry Massett (co-founder of SoundPrint). It's an audio feast in honor of Thanksgiving, the only national holiday dedicated to gluttony. First we'll binge on some stories all about eating; then we'll purge with a documentary about refusing to eat.
Scott Carrier tours a turkey ranch, unflinchingly following the gobbler from farmyard to frozen food. Susan Stone serves up a tongue-twisting knife-wielding cut-up collage of the Joy of Cooking. Joe Frank describes a typically twisted Thanksgiving dinner, in an excerpt from his program "Pilgrim." Dean Olscher trips through the Twin Cities, going among the Hmong, with assistance from by Chowhound Jim Leff on the cellphone. Annie Cheney offers a touching document of her eating disorder. And poet Todd Colby will do absolutely anything for some cake.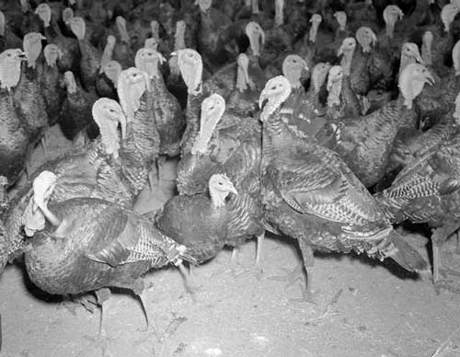 photo by Harry M. Rhoads (1880-1975)
courtesy Western History/Genealogy Department, Denver Public Library

Purge (Part 2)(25:00)

The second half of LET'S EAT is devoted to a story about refusing to eat: "Concerning Breakfast" by Jay Allison & Annie Cheney. Annie was volunteering at a public radio station. During her training she was told that asking people what they had for breakfast was a good way to set your recording levels and make sure the interview subjects were more comfortable. To Annie, what people had for breakfast was the most interesting part of the conversation.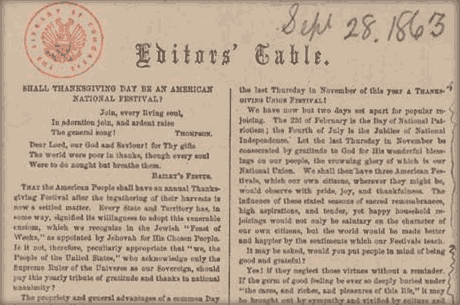 Sarah J. Hale, Editor of Godey's Lady's Book, led a campaign through
the 1850s-1860s to establish Thanksgiving Day as a national holiday

Joe Frank- Official Website


Scott Carrier- All Things Carrier


Dean Olscher- The Next Big Thing


Jim Leff- The Chowhound


Susan Stone- KPFA Drama & Lit


Todd Colby- at Salon.com


Jay Allison- Life Stories

Library of Congress- Thanksgiving in American Memory


US Census Bureau- Thanksgiving Day, 2002

This special was mixed by Robin Wise, with kitchen sounds courtesy of Frank's Custom Catering in Bozeman MT. Executive Producer is Barrett Golding. (((HearingVoices))) specials are crafted from new and classic radio shows. Fundors include the Corporation for Public Broadcasting and National Endowment for the Arts.
Audio © the above producers and (((HearingVoices)))